In February 2020, when we published our story on Batu Batu in Malaysia, travel seemed like a given for anyone with the means. Mere weeks later, COVID-19's relentless spread brought global movement to a halt.
In Malaysia, the government launched a Movement Control Order (MCO) to contain the coronavirus' spread, and businesses across the country — including Batu Batu — shuttered.
This not only affected the island's tourism, it also put the brakes on the conservation work of Tengah Island Conservation (TIC), which is founded and funded by Batu Batu.
The urgency of this was not lost on Batu Batu. As TIC Programme Director Tanya Leibrick put it: "If we don't continue to protect the coral reefs now… there won't be anything for people to come and see in a few years. That will massively impact tourism. Conservation protects the biological assets that provide for the livelihood of many communities."
What happens to an island paradise in a pandemic? And when it reopened after a three-month closure, what lies ahead for Batu Batu's sustainability mission? Find out through first-hand accounts from Tanya, Batu Batu co-founder Cher Chua-Lassalvy and TIC Outreach Coordinator Mohammed "Zam" Alzam.
16 March 2020: The Announcement
Zam: "It was so sudden. Malaysia's Prime Minister appeared on TV in the evening to announce that a MCO would start on 18 March."
Cher: "It also happened to be the Singapore school holidays that week, so Singaporeans who were holidaying in Malaysia immediately checked out of their hotels to return home. I found myself in a similar situation as my family is based in Singapore.
The Causeway was jam-packed – I've never seen it like that! I decided to leave my car behind in Johor Bahru and walk across with thousands of people. I only got home at half past 1am!"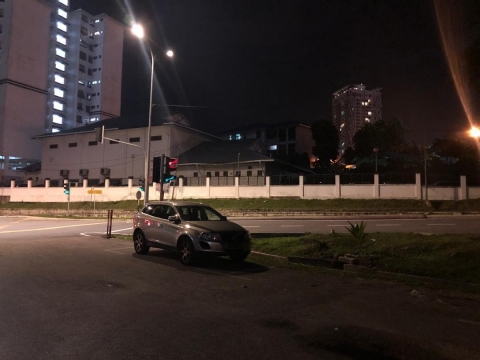 Tanya: "Besides Malaysians, TIC team has members from France, India, Italy, Spain and the UK. We were all really anxious and began to phone our embassies for advice. Given the uncertainty, we decided to stay for a while and see what happens."
18 March – 9 June 2020: MCO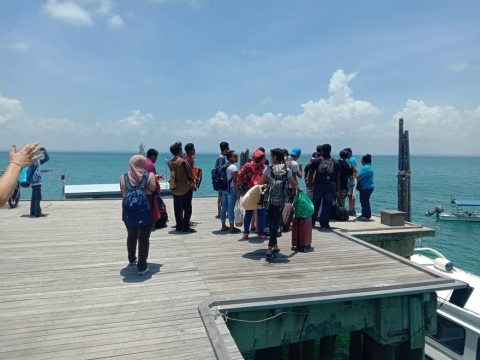 Cher: "Having to close the resort during the MCO was tough. The closure meant only a few teams needed to keep working throughout the period — Maintenance, Engineering and Finance. Imagine all the bookings that had to be refunded and the paperwork involved!
But the toughest part for me was having to put staff on unpaid leave. Around half of them returned to their hometowns on 17 March, but quite a number of them were unable to travel home in time."
Zam: "Personally, the hardest part was helping my family in Sabah to manage their worries about me… while managing my own anxiety at the same time. I spent hundreds of dollars on standby tickets as the lockdown kept getting extended. It was financially tough as my livelihood had stopped, but airlines don't do cash reimbursements (only credit reimbursements).
Tanya: "Most of us were on unpaid leave which was difficult, but we were aware it could have been a lot worse. Being on the island, we were able to still walk around and be outside in nature.
"It actually felt surreal being in this beautiful place while seeing how bad the pandemic situation was becoming worldwide. I felt guilty that I couldn't help or do anything about it."

Tanya Leibrick Director, TIC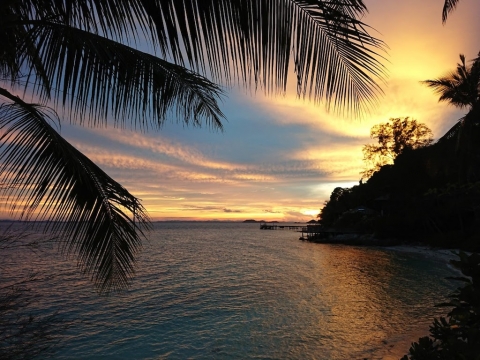 Tanya: "We didn't get to patrol the other islands to see what was happening with turtle monitoring there, because we weren't allowed to do that under the MCO. We didn't get to do dive surveys either.
Cher: "We also don't know what happened to the eggs, if they were poached etc. We suspect that hard times and lack of patrolling might have meant more opportunistic egg gathering. We know that there were divers in the reefs off Batu Batu late at night during the MCO, probably taking sea cucumbers or anything valuable from the reefs. We missed out a good amount of work on the PEDAS programme (school visits, community engagement) so we're a little behind there as well."
Tanya: What we were able to do was to continue patrolling and cleaning the beaches on our island."
Zam: "And we also planted a lot of trees...we spent quite a lot of time planting coastal bushes and trees there to bring back some of the vegetation."
Tanya: "One highlight during the MCO was spotting the rare sight of a green turtle nesting, and being able to release hatchlings from a few turtle nests into the ocean.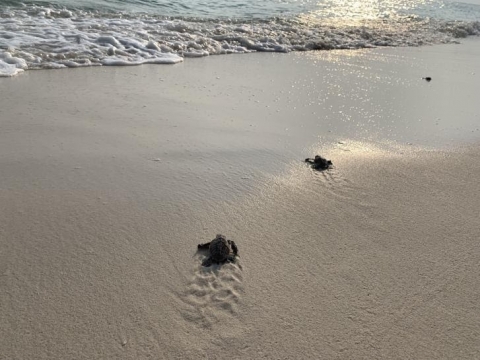 We also did an online fundraiser for TIC that was really well-received. I think up until then, I didn't realise how many guests had taken our conservation work to heart. To come out and sponsor us at such a difficult time for everyone, meant a lot to us."
1 July: The Reopening
Beginning 10 June, domestic tourism was allowed to resume in Malaysia
Cher: "Since the reopening, we have done better than we could have hoped. It definitely helps that the weather has been amazing! Morale is pretty high — the team is happy to be back, and guests seem really happy too. We have had some Malaysian celebrities coming and our staff are very excited about that.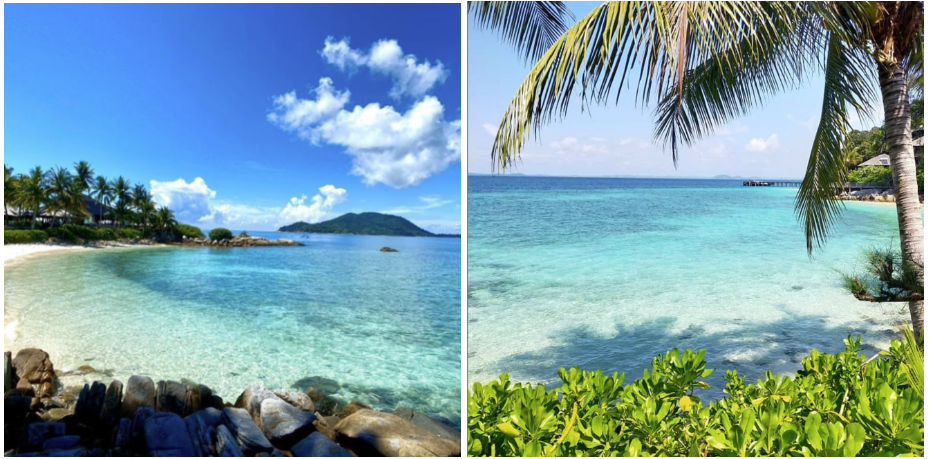 As part of our 'source locally' ethos, we have been working with a seamstress in Mersing town to sew batik masks to give to all staff. It's a work-in-progress to have Mersing locals own the project and scale it.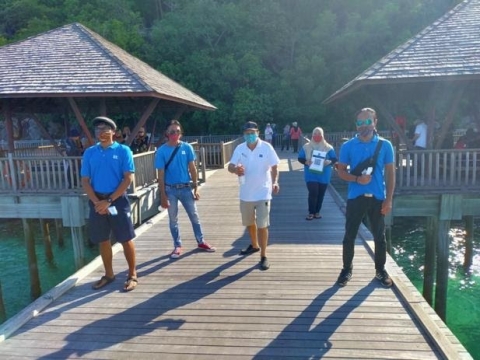 Our solar panels are also up now. The installation was delayed due to the MCO. Otherwise, [it] would have saved us quite a bit of money [during the shutdown]."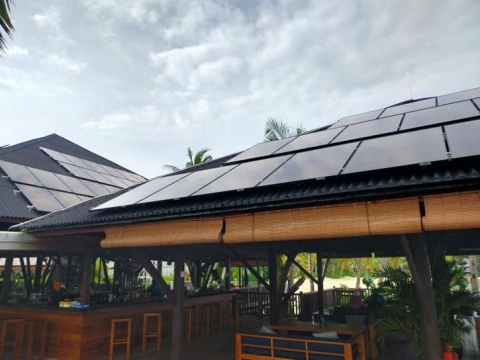 The Road Ahead
A lockdown was re-introduced in October in selected states and areas, including Kuala Lumpur
Zam: "On the TIC community outreach front, it looks like our school [outreach] programme has to be postponed to next year. We did discuss some digital lessons, but a lot of the schools are currently focused on getting back on track with their curriculum."
Cher: "The lack of a clear scenario makes it hard to plan ahead, the uncertainty of what might happen if there's a second wave [of infections] and we have to close the resort all over again."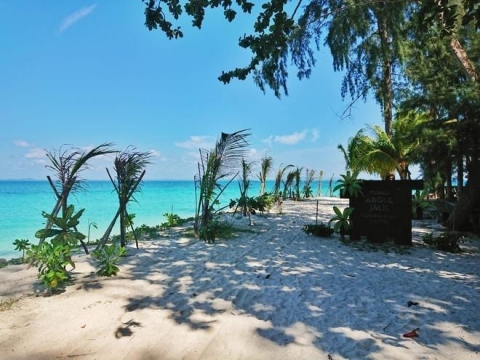 Tanya: "I don't think we realised until the MCO how much we depended on revenue from tourism, and how quickly that can be taken away. So it's helped us to start putting other plans in place, to look at grants and other fundraising strategies.
People tend to wonder, 'Why should we care about the turtles? Why should we care about coral reefs?' Those are big questions and there are no easy answers when humans are suffering. But the ongoing pandemic highlights that the health of humans and the ecosystems around us are more connected than we think. Zoonotic diseases like COVID-19 are thought to be much more likely with humans encroaching on natural spaces.
Aside from that, protecting coral reefs not only guard coastlines against storms and wave impact, they also sustain fisheries as coral reefs support a huge percentage of the fish population. So if you don't protect coral reefs, fisheries could collapse and that could impact food security.
What's more, if we don't continue to protect the coral reefs now… there won't be anything for people to come and see in a few years. That will massively impact tourism. Conservation protects the biological assets that provide for the livelihood of many communities."

Cher: "When you're able to travel again, do your research, be aware of 'greenwash'. If an entity says it supports biodiversity management, ask about their projects, how they carry out the work, what are the impacts, do they have reports? Hold businesses accountable...We all need the pressure. Then support the travel businesses that are doing the right things."