The Magic of Kupang
To most travellers Kupang is a transit hub en route to hiking Mount Mutis in South Central Timor's Mollo highlands, surfing Nemberala Beach in West Rote, or diving Alor's coral reefs.
But Indonesia's southernmost city has its own wonderful charms. From natural splendours like sprawling tropical landscapes, swimming caves and waterfalls, to a scenic city steeped in centuries of history as a trading port, with a waterfront that sets the stage for an amazing sunset.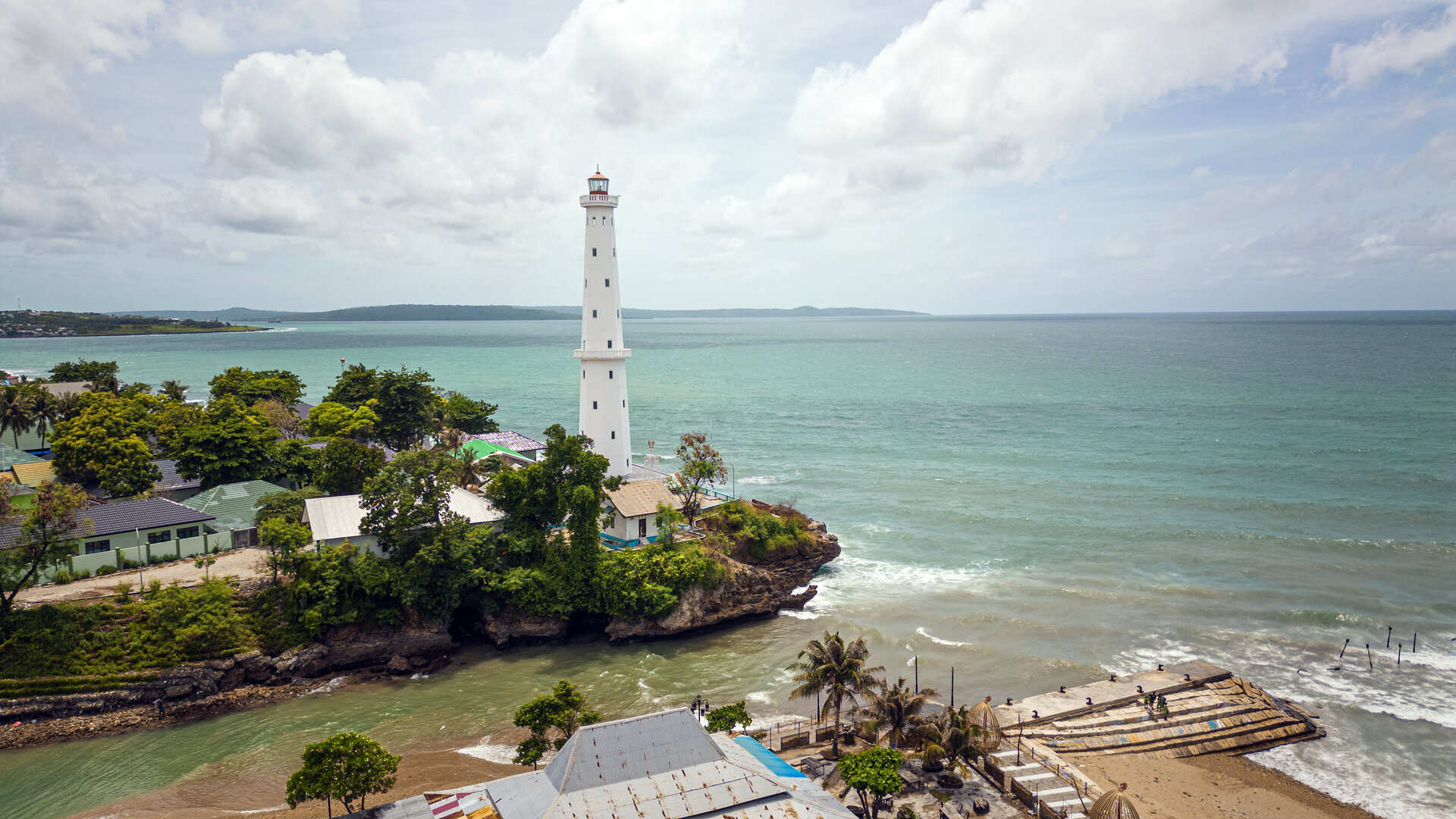 The Kupang Lighthouse, an historical landmark from the colonial past. The Dutch name for it is Ruïnes van de Oude Indië Pier in Koepang.
To me though, Kupang is my other home. My maternal grandparents were from neighbouring Rote island, so Kupang was their gateway to the world.
I grew up with "Bahasa Kupang" (Timorese Malay), Rotinese songs whose lyrics I've yet to memorise, my great-grandmother's handmade textiles and faded stories of the Timor and Rote my grandparents remembered: pristine beaches, sugar palms, horses and church. As a foodie, one of my regrets growing up was never having the opportunity to savour my great-grandparents' West Timorese cuisine.
This is what brought me to Kupang's shores - to discover a missing part of my heritage.
It's a good time to be a foodie in Kupang. A gastronomic revival has drawn many to the city's distinct culinary heritage. West Timorese cuisine centres around aged maize, fragrant endemic herbs and the local specialty - se'i, Timorese smoked meat, a dish that's rising in popularity in Indonesia. These flavours are being appreciated in smokehouses, restaurants and hawker centres—by Kupang's population of 450,000 as well as tourists.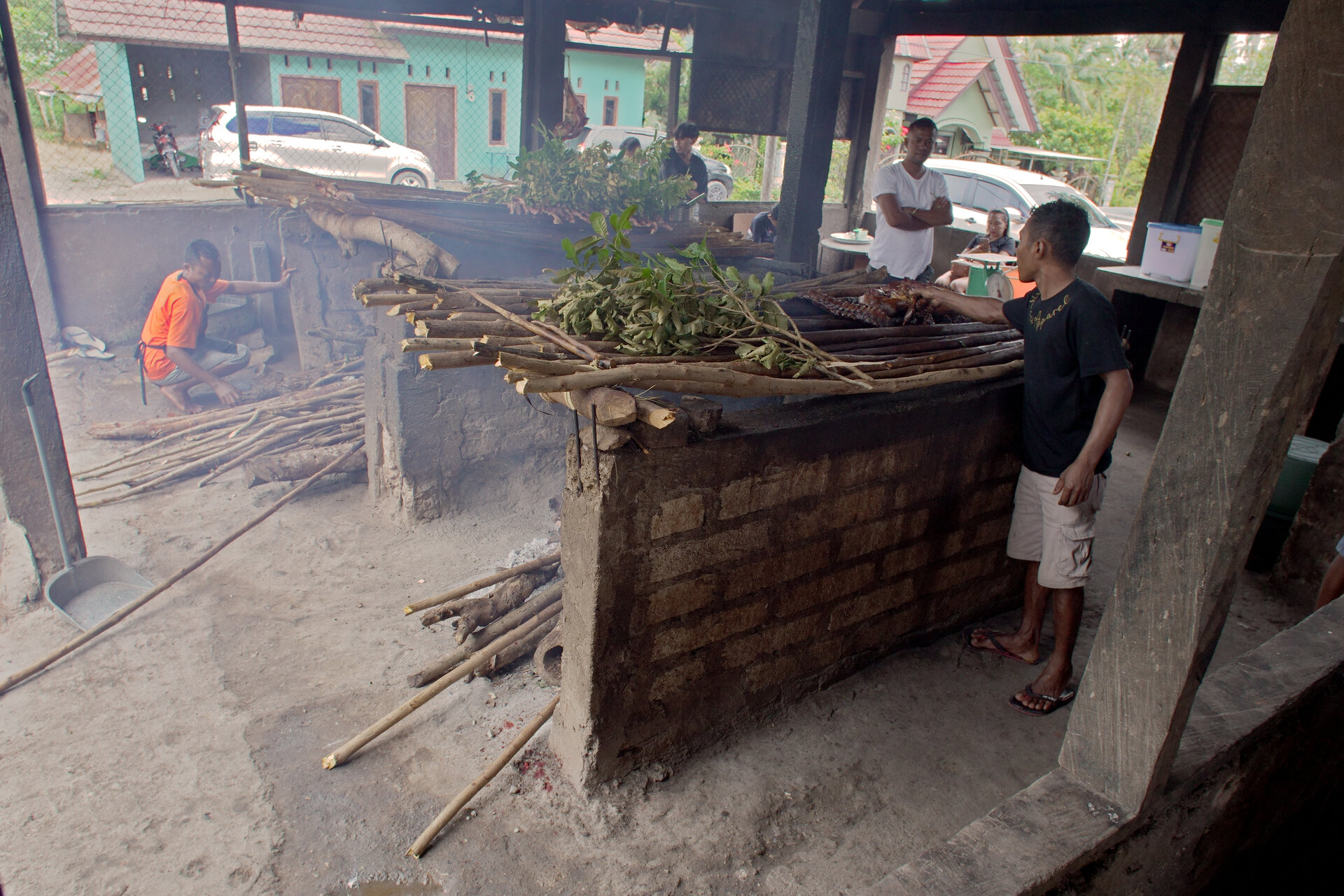 The se'i method smokes meat on beams of Ceylon oak and river tamarind wood, covered with their leaves. The result is a deep pink meat with a bold and spicy smoky flavour.
There is one special place in Kupang that does more than just delight my tastebuds. It tugs at my heart strings as well.
Artisan coffee bar Cafe Inklusi (CafeIn) serves Timorese fusion dishes and native coffee from all over the Nusa Tenggara Timur (NTT) province. They also serve a great cause. Employing predominantly deaf cooks and baristas, CafeIn's mission is to transform Kupang's food and beverage (F&B) landscape into an inclusive intercultural space to bond over food and coffee.
My mission: to meet these people, learn from them, make new friends and reconnect with my heritage.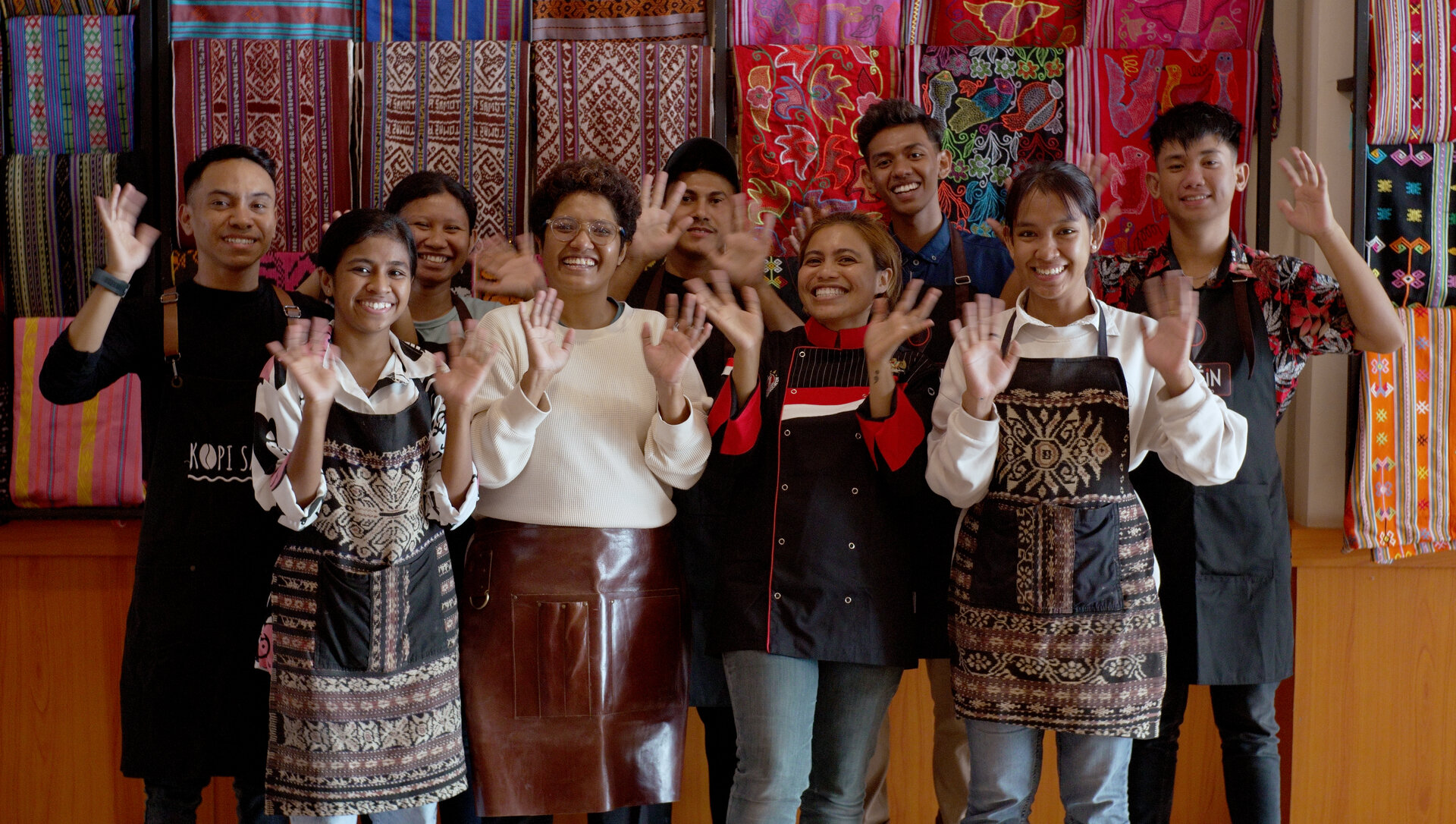 The CafeIn crew sign hello.
Meet Cafe Inklusi
"Warming people's bellies with food is the simplest form of happiness." Sischa Solokana is proud of her establishment which she co-founded in 2019 with her cousin Kichi Jacob.
Back then, it was called Kopi Saa. Today it has expanded to become Cafe Inklusi, with the cafe operating in Dekranasda, the province's colourful handicraft centre. With Sischa now a member of the Indonesian Chef Association, and Kichi a certified barista, Kopi Saa lives on as their F&B training programme.
There haven't been many options before for Kupang's deaf community to find jobs, so CafeIn, along with its weekly training, provides them with an opportunity to be empowered, engaged and to have something to care about.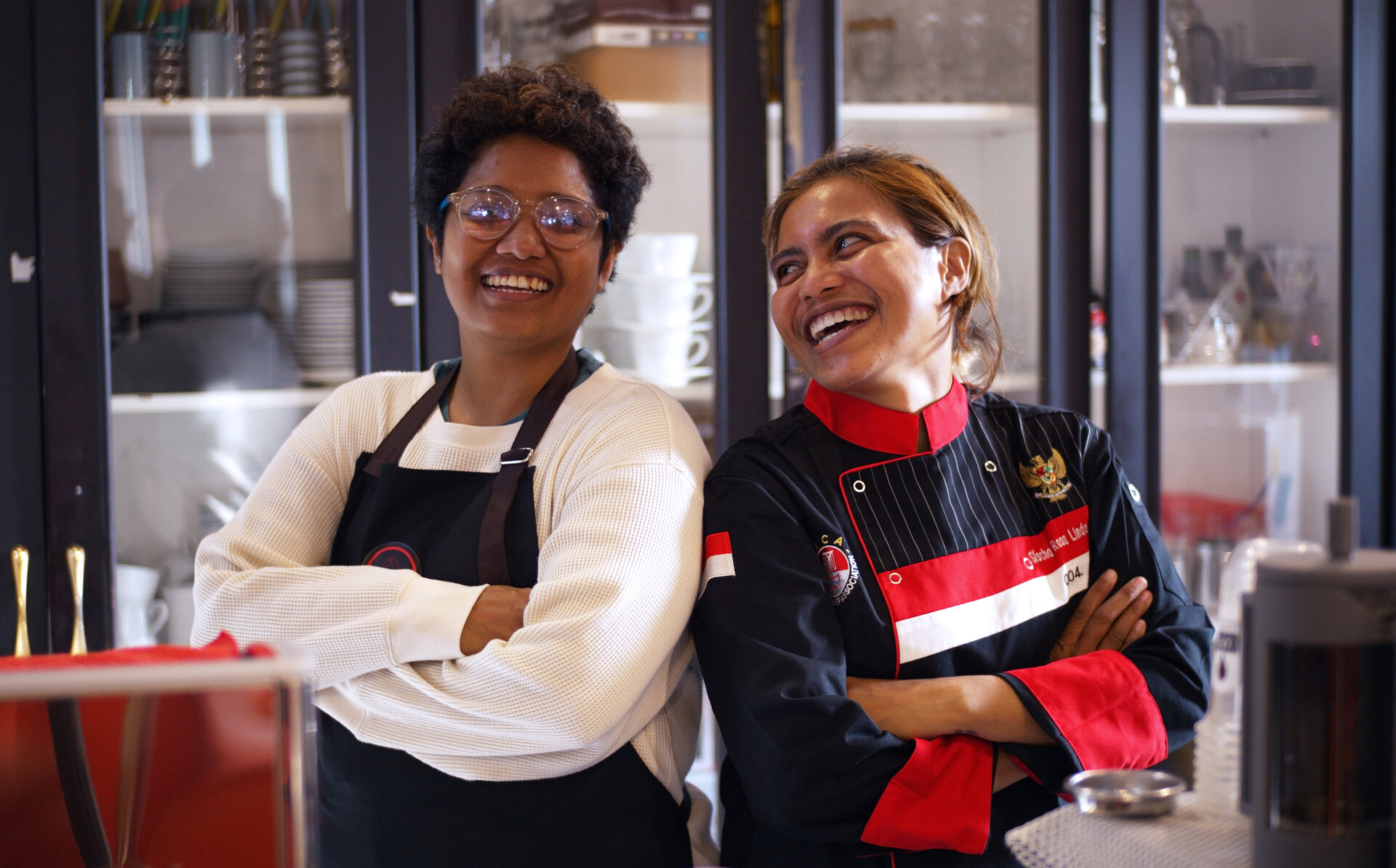 Kopi Saa/Cafe Inklusi co-founders: Kichi Jacob (left) in the CafeIn barista apron and Sischa Solokana in the Indonesian Chef Association uniform.
The heart of the operation are the 2023 CafeIn crew - An Mone, Daniel Yohanis, Frengki Riwu, Misel Elik and Tanel Loa, who are deaf, as well as the hearing Doni Kopong and Nona Saekoko.
CafeIn's working language is BISINDO, an Indonesian sign language. Currently only Sischa and Kichi speak English. Diners who do not know Indonesian can communicate using apps like Google Translate.
As an amateur cook, I suggested an intercultural cookout, experimenting the Timorisation of my and Sischa's favourite Western recipes with the deaf community.
Sischa and Kichi respond delightfully. "Let's do this!"
A Timorese culinary excursion
What is "Timorising" fusion cuisine? For Sischa it is all about adapting locally.
"We aim to serve dishes that are familiar to most travellers, but with a novel twist. We use local ingredients whenever possible. Timorese parsley instead of rosemary. Virgin coconut oil instead of olive oil."
"Timorising" requires an understanding of authentic Timorese flavours, so CafeIn invites me to a food excursion at artisan smokehouse Se'i Baun in Kupang's outskirts. An important part of training at CafeIn, Sischa says, excursions help staff learn from other businesses.
Se'i is the centrepiece of Timorese cuisine. Commonly pork, se'i could also be beef, fish or chicken produced with the same smoking technique: on Ceylon oak or river tamarind wood and leaves.
Its smoky taste is bold and bacon-y like hickory but muskier and spicier. It tints meat deep pink like cherrywood. Se'i Baun's cinderblock furnaces spread a delicious barbecue scent of smoking premium free-range pork.
Pork se'i has a fuller-bodied smokiness and thicker cuts. Se'i Baun is served with a blazing traditional chilli-citrus relish sambal lu'at, as well as smoked ribs, and a stir-fry of bitter greens.
An excellent se'i meal is both earthy and zesty. Fiery and buttery. Succulent and hearty.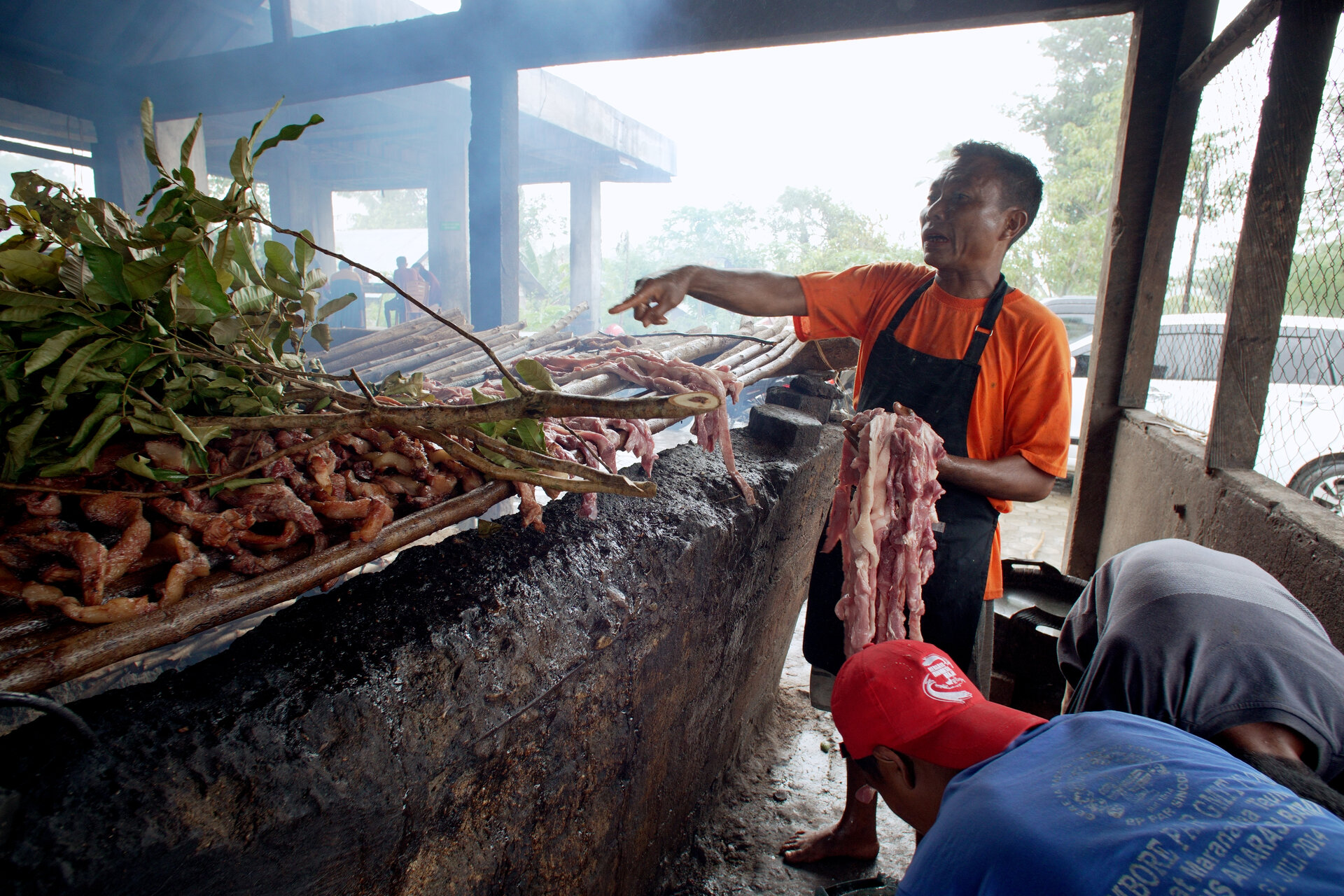 A cook at the Se'i Baun smokehouse puts fresh pork on the smoking furnace while directing the junior staff.
Kichi, who created se'i based cocktail Royal 1917, says se'i was invented in colonial times. Plantation labourers left home months at a time and needed to feed their children while away. Hence the invention of se'i, fermented sambal lu'at and aged maize jagung bose—all which keep for months without refrigeration.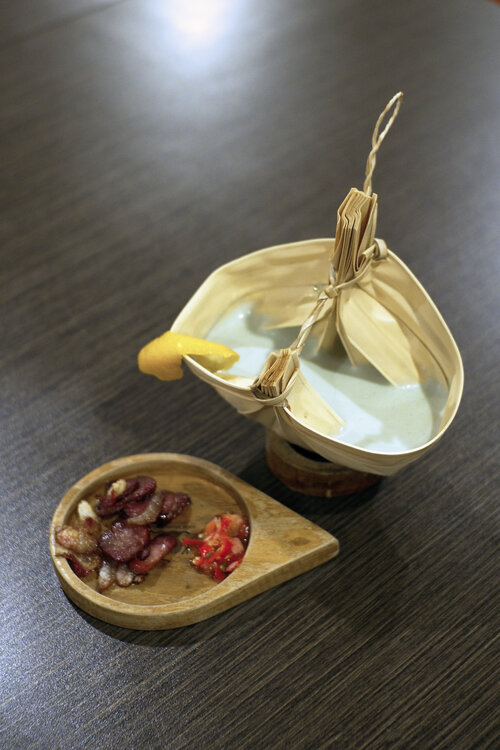 Founder, Kichi Jacob's Royal 1917 is a beef se'i infused whiskey cocktail with a creamy texture and refreshing citrus and basil flavour. Accompanying it is a micro serving of beef se'i and sambal lu'at.
A Timorese fusion experiment
While se'i cannot be cooked in CafeIn's kitchen, it is Sischa's favourite ingredient for fusion creations. CafeIn is applying for Halal certification and only serves locally sourced halal se'i.
At CafeIn, Sischa demonstrates cooking beef se'i Alfredo and tuna se'i aglio e olio spaghetti for the CafeIn staff, who take turns helping her. Neither dish contains added salt or olive oil, with Se'i and virgin coconut oil being used instead. Coconut cream substitute for cooking cream in the Alfredo. Aromatic leaf celery substitute for European parsley.
Now it's my turn to lead, and as I knead the dough, I pique An's interest. She loves to bake but is new to bread, so I invite her to shape submarine rolls together. Her eyes light up as the dough expands.
Born and raised in Kupang, 19-year-old An recently graduated from high school. CafeIn is An's first workplace, but she has been cooking since primary school.
"My mother taught me to be independent, including being able to feed myself. I felt happy and proud when my mother came home from work and I have dinner ready for her."
An adds that she loves fish dishes, jagung bose porridge and sambal lu'at—the hotter, the better.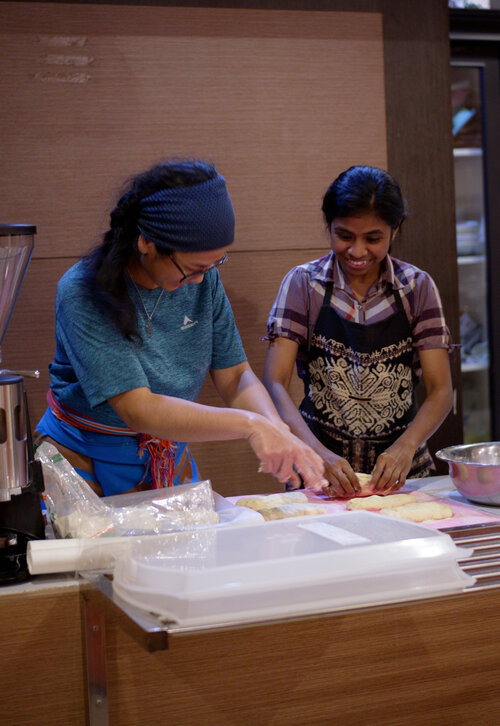 Grace and An make submarine rolls. An loves to bake but this is her first time making bread from scratch.
Up next, Daniel, Tanel and Frengki prepare roast chicken.
Originally from Soe, South Central Timor, 19-year-old Daniel has had a traumatic childhood. He and his mother endured violence from his father, who did not accept having a deaf child. After Daniel's parents separated, the 11-year-old boy walked alone from Soe to Kupang, about 110 kilometres, to find his mother.
Daniel has since graduated from high school and developed a passion for brewing coffee. Overcoming trauma is an ongoing challenge, but having joined CafeIn in April, he now has a chance to feel appreciated and let his talents shine, in the presence of positive role models like Sischa and Kichi.
Locals may recognise 27-year-old Tanel as a BISINDO interpreter for a national television network. But Tanel wasn't always busy with two jobs. "I used to have difficulties finding a job, but CafeIn gave me and my deaf friends a chance to make something of our lives and contribute towards a more inclusive NTT Province."
Previously aspiring to become a photographer, today Tanel looks at the barista profession as his future. Tanel finds his barista apprenticeship at CafeIn a much more fruitful pursuit than photography. He recollects the frustrations he felt in photography spaces that assumed all photographers were hearing.
Tanel is currently saving to open his own cafe. "Baristas are cool. I am proud to be a deaf barista."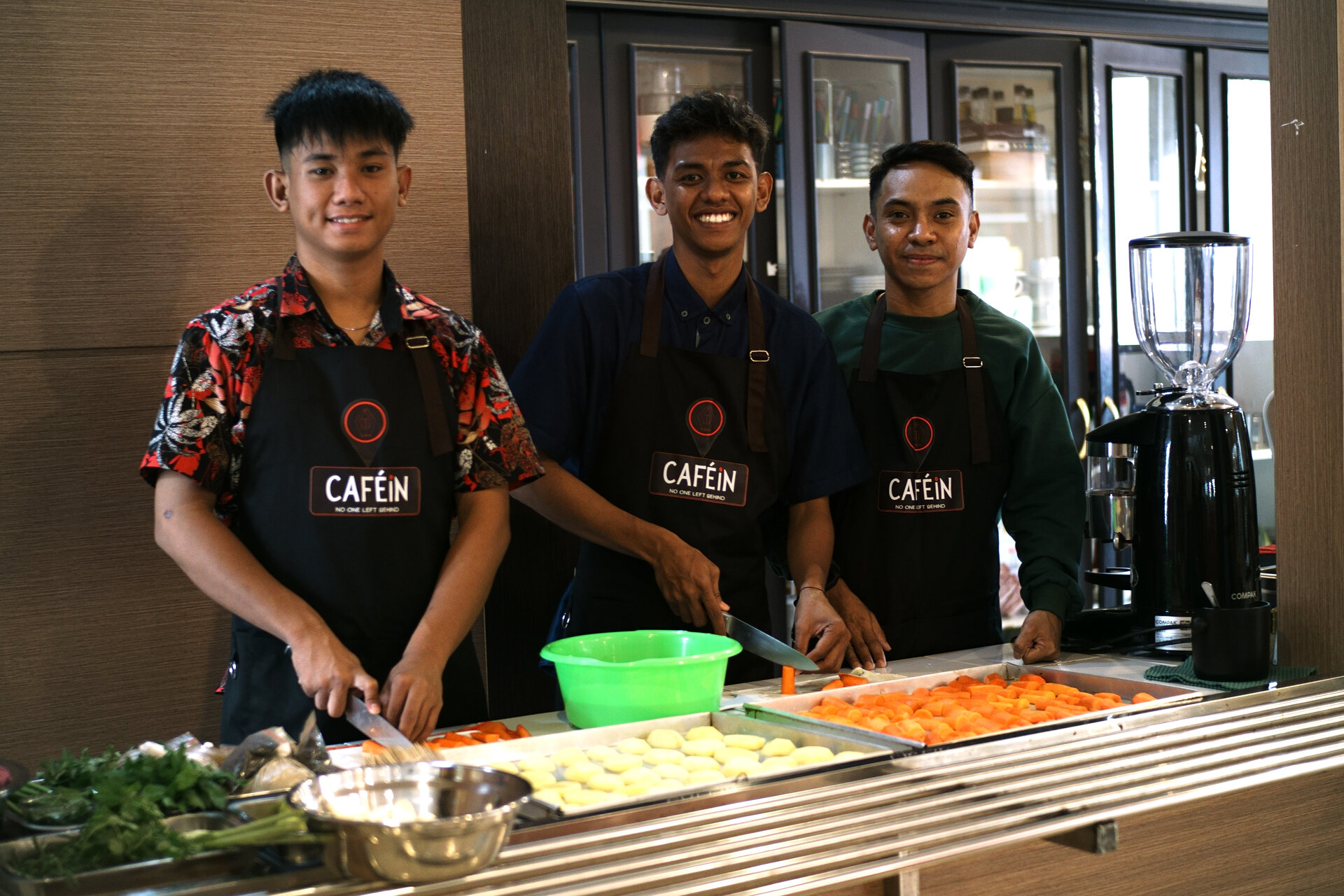 (Left to right) Baristas Daniel, Frengki and Tanel step out of their comfort zones and rise to the cooking challenge.
Back in the CafeIn kitchen, we work on Timorising my favourite roast chicken recipe. We use limes instead of lemons, and Timorese herbs instead of rosemary and thyme.
The red stemmed Timorese basil is fresh, spicy and sweet with hints of licorice. Sipa is a peppery, minty mini-parsley with an intense palate-cleansing punch. The citrusy and nutty cilantro is also a Timorese staple, and a first for my roast chicken.
Frengki panics as I demonstrate peeling garlic. "Slow down," he signs. Sischa later informs me that Frengki lost his hearing in an accident, so he fears sharp objects.
After becoming deaf, Frengki used to lock himself at home, but over time and with support he found more confidence and employment.
"Even when I got hired by CafeIn, my parents were initially sceptical, because deaf workers often get paid less than they're worth. But now that I'm paid what I'm worth, I have my parents' blessing."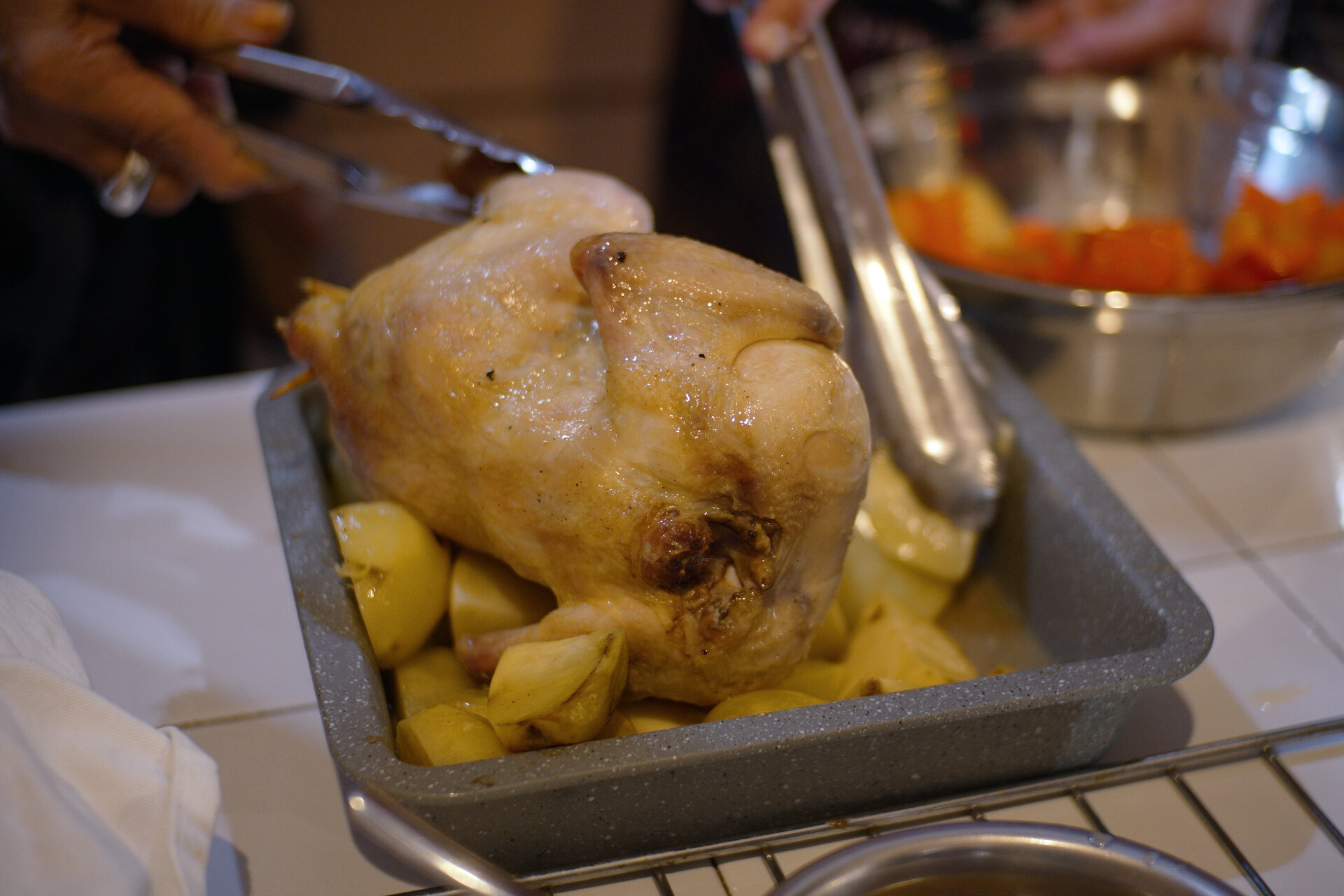 Stuffed and salted! A chicken is ready to roast.
Hours later, we completed the dinner spread with guacamole-roast chicken sandwiches, a refreshing cucumber-grape salad with Timorese honey vinaigrette, and jagung bose porridge cooked in bone broth from today's roast chicken, coconut milk and beef se'i bits.
I am pleased with our creations, and so are my new friends.
"Making roast chicken was fun! I didn't know garlic, citrus and green flowers make chicken taste good," says Daniel, who had only "cooked" instant noodles before.
As a first-timer in a deaf space, I feel truly included in my new friends' generous spirit. Cooking together meant we were all out of our comfort zones: mine linguistically and theirs culinarily. Yet in this feast of few words, food becomes a common ground for us to bond past our cultural differences.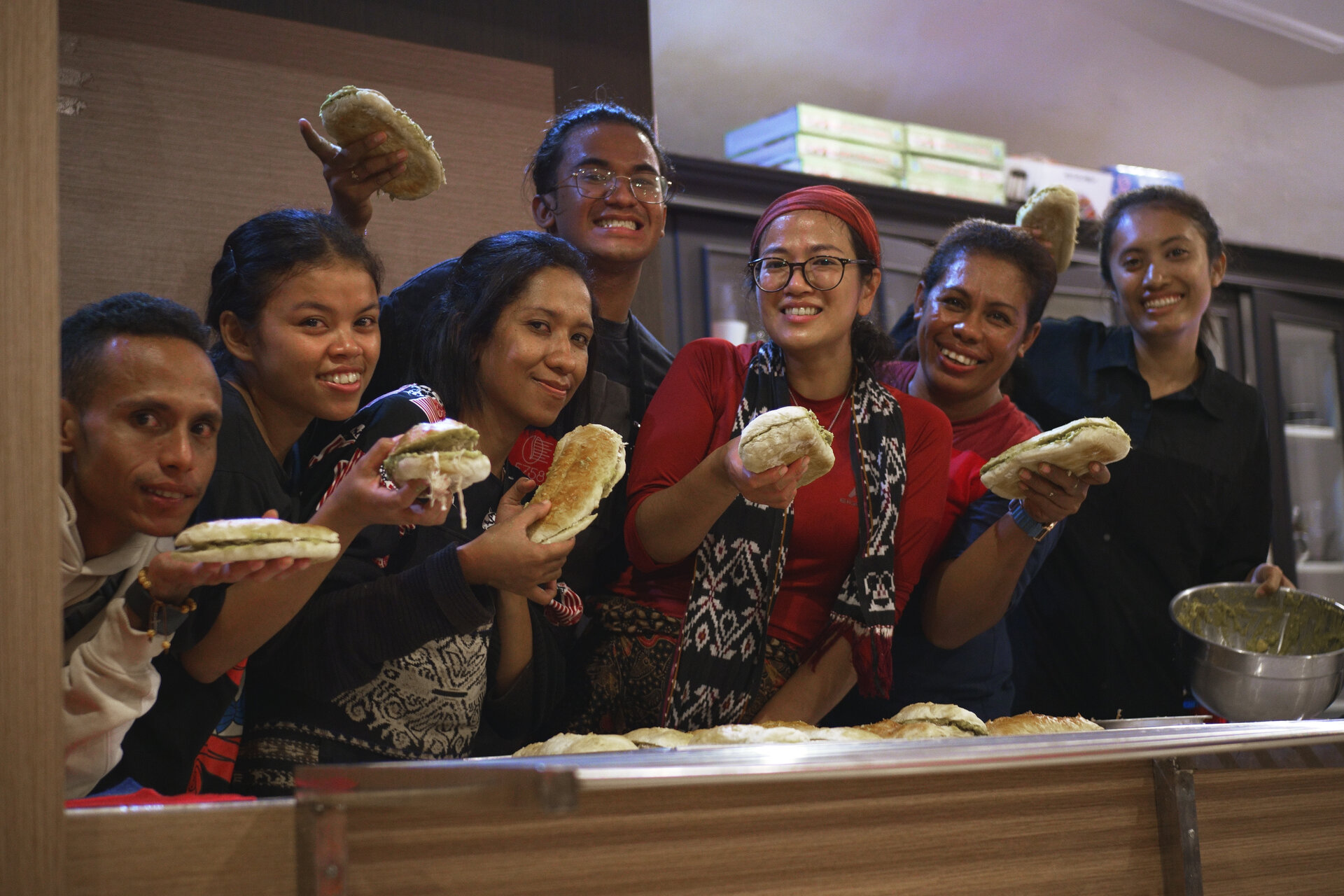 Making new friends and bonding over food.
Future Focus
CafeIn staff are meant to "graduate" within a year or two and continue their careers elsewhere. Frengki, Tanel and Daniel plan to open their own cafés. Misel, also a makeup artist, is saving to open her own salon. Nona and Doni plan to attend university.
An is still figuring out her future, but as her paralysed mother's caretaker she plans to provide a good retirement for her parents.
"I am grateful. With skills gained from CafeIn, I feel secure about my future," says An.
While the staff continue to grow in skills and confidence, CafeIn is evolving as well. In their bid to continue advocating for inclusivity in the F&B sector, they have formed a training partnership with a local special needs school.
In the near future, they also intend to hire employees with other disabilities, or hearing/able-bodied employees with disadvantages such as school leavers, young people fleeing from abusive homes, and those from low-income families.
And in mid 2023 Cafe Inklusi will open a second location in Tedis Beach, a trendy district near the waterfront at the Old City district.
"Please come! We serve good dishes and beverages. Come get to know us," says An.
CafeIn is closed on Sundays, except for secret menu bookings made in advance. This gives you access to dishes not on the daily menu, and helps CafeIn tailor the ingredients to your dietary requirements.
A Full Belly and Full Heart
CafeIn has been a rare opportunity for me to engage in a deaf space. Not always easy for me, who is used to long conversations. What I learnt was that at CafeIn food is just as powerful a tool for building friendships.
Unlike almost everything else in life, food is a space where it doesn't matter who is hearing or deaf. Even in near silence, in this space we are just fellow cooks, eaters and human beings enjoying the pleasures of life together.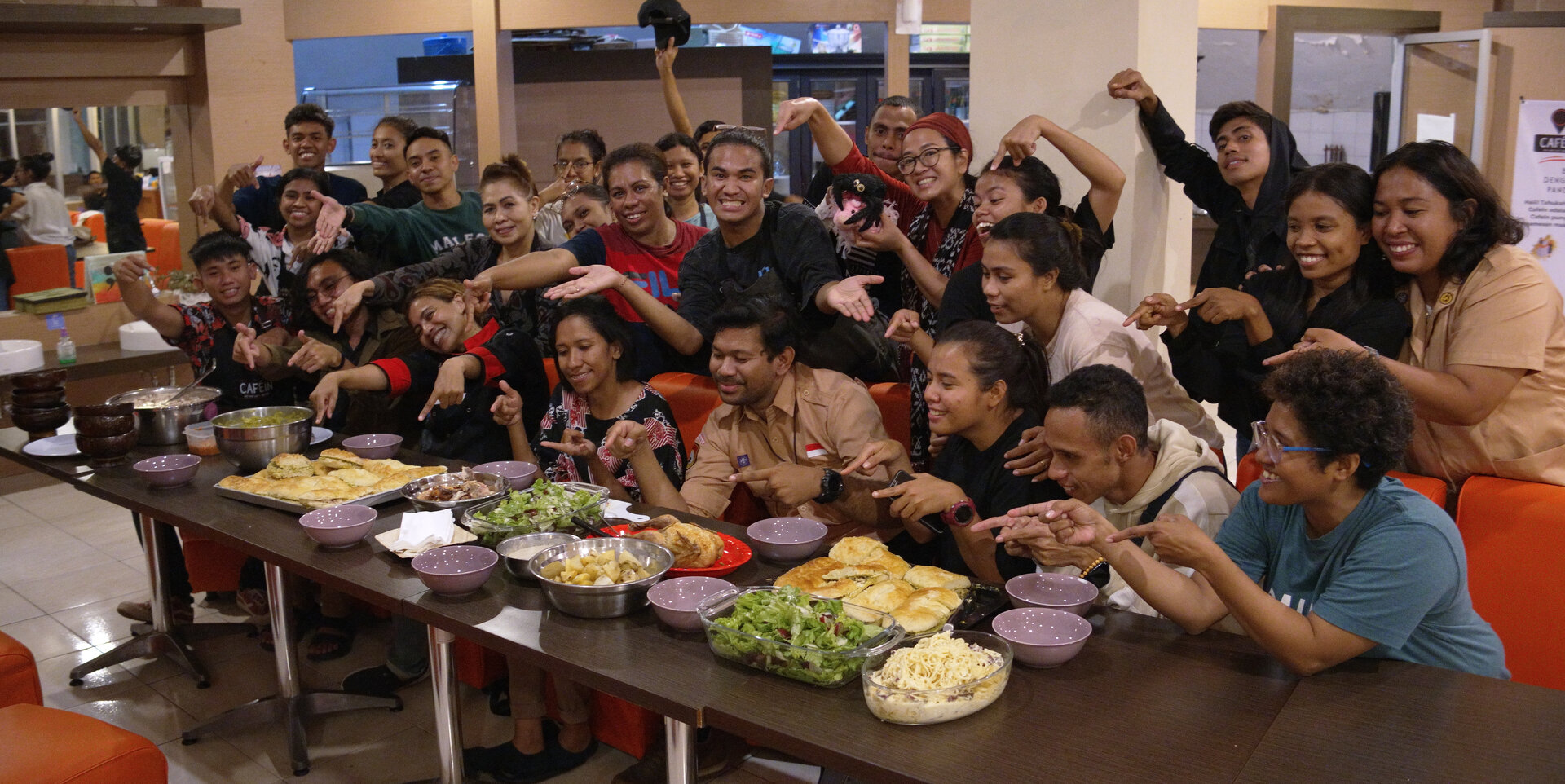 Ready to feast: a whole day of cooking followed by 10 minutes of eating.
CafeIn's menu might not look like my great-grandparents' traditional cooking, but their Timor-inspired fusion creations speak so primally to my diasporic soul. A piece of my heritage—our common heritage—is present in the dishes in a way that I am proud to call my own.
Our "Timorising" experiment has been more than just flavours to me: it is an expression of my identity as a world citizen with roots in Kupang, made special by a group of new friends in this special city who show me what the Inklusi (inclusive) spirit truly means.
I hope in due time, the hearing world will learn to reciprocate.