In Walvanda, a verdant hamlet inhabited by the Warli, a rustic way of life has quietly survived amidst the pressures of modernisation. Spend a day there taking in their distinctive art and the joys of rural life, and help the Warli preserve their traditions.
MEET THE WARLIS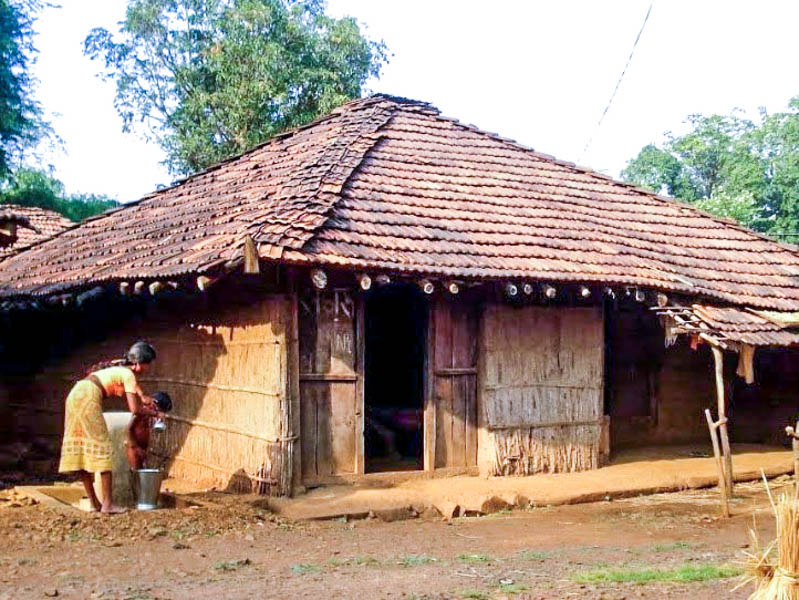 As you trundle into sleepy Walvanda, you can't miss the fifty and more shades of green — a mesmerising landscape created by a sea of paddy fields, lush and green after the monsoon rains.
Located in the state of Maharashtra, it's just 130 km from the hectic metropolis that is Mumbai, but it feels like a world away.
Literally, for Walvanda is home to the indigenous Warli tribe, who have managed to hold on to some of their beliefs, customs and language, despite the pressures of urbanisation.
It is also one of the few places in India where you can watch them create their distinctive art, with which the tribe shares its name.
This sense of being enveloped into a new world and a different culture is evident from your arrival in the village.
Waman, a guide from the village welcomes you, not just to his home, but to the village — because you are the guest of the entire community.
He applies a tikka along the length of your forehead as a sign of a good omen, and you are handed a flower and a "Gandhi cap" to don on for the rest of your time in the village — just like the locals do.
THE LIVES BEHIND THE ART
Look up "Warli" on the Internet, and you are likely to be inundated by images of their richly-detailed art. A form of pictorial storytelling, the paintings are an avenue for the tribe to impart their way of life — from important traditions and beliefs to the minutiae everyday life — through the generations.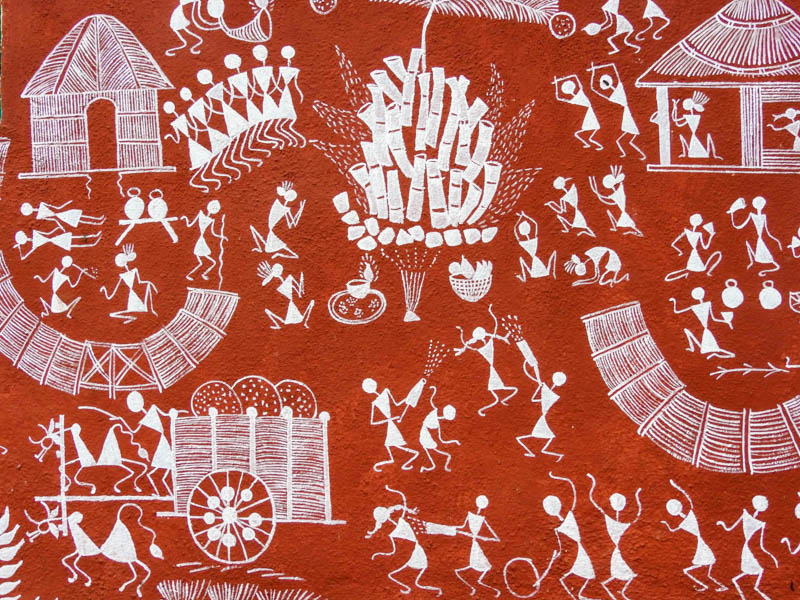 A visit to Walvanda, organised by social enterprise Grassroutes, is an invitation to look at the lives behind the art.
Leaving behind your shoes at the main entrance of the house, your host family readies you to start the day right — with breakfast.
Poha — dry flakes of flattened rice — served with roasted groundnuts and a lemon wedge, is the staple breakfast in most parts of Maharashtra and Walvanda is no exception. Over a cup of piping hot tea (another favourite of the locals), Waman outlines the activities of the day, while the host family chimes in with tips on what to watch out for.
After breakfast, a local artisan adept in Warli painting guides you through its creation process.
Traditionally, rice-paste, gum and water would be mixed together to make the paint, and a chewed bamboo stick served as the paint brush. For centuries, the red-ochre walls of the houses — built from cow-dung and mud — served as the canvas.
But modern life has chipped away at this practice: acrylic paint and actual canvas are used today, as mud houses have been replaced by their brick-and-mortar counterparts.
In the past, Warli painting was an important ritual of village life, undertaken during important ceremonies like marriage or harvest time. The distinctive geometric patterns and brushstrokes served as the medium through which Warli culture was passed down through generations.
But now, Warli art is only practised by a few in Walvanda and other villages in the region, with pieces created mainly for exhibition or for sale.
A walk through the village with the host reveals more nuances of the Warli way of life. Agriculture is the main source of livelihood for the tribe, and rice — so integral to Warli painting — is the staple kharif (monsoon) crop.
The gentle rhythms of working the land and gathering this precious crop fill the village, from the sway of the lush green fields, to the swish of rice being husked, to pounding of rice being milled by hand in rooms found in every Warli home.
For city-bred folk like us, who are used to seeing polished rice in its final form in shops, witnessing the effort involved in growing and harvesting the rice can be eye opening.
Another plant cultivated is bamboo, which can be used to make ghungda — a mesh that serves as a protective covering for farmers during monsoon season.
Waman explains that the villagers had started using plastic sheets a few years ago, but have once again returned to tradition: "We're slowly making a return to the ghungda after we saw how it has remained a practice in Purushwadi (another village working with Grassroutes). We realise plastic isn't a sustainable option."
A WAY OF LIFE, A WAY FORWARD
Like many indigenous communities, the Warlis are caught between maintaining their authentic ways and adapting to the ever-changing macro-environment.
Learning to speak English, picking up basic computer skills and working 9-to-6 shifts have come at the cost of letting go of their inherent way of life. Some have chosen the "practical" course, by taking up government jobs that guarantee employment, for example.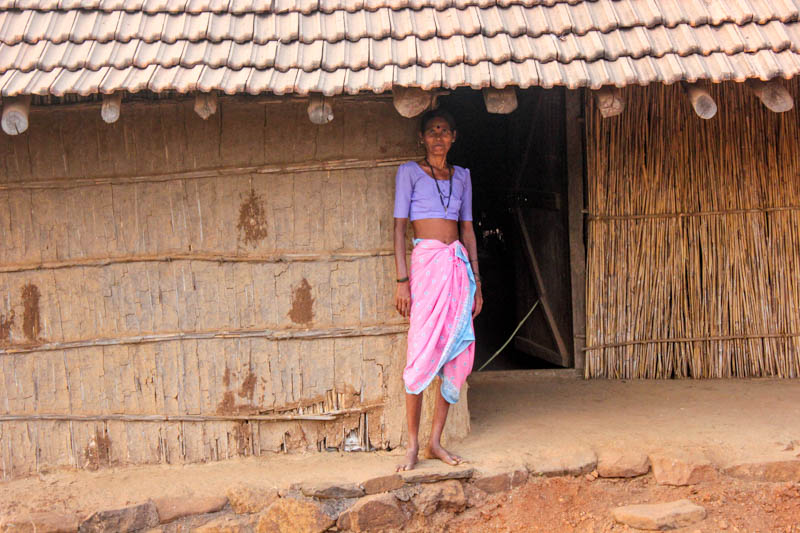 Enter Grassroutes: a social enterprise that promotes rural tourism to create livelihood opportunities for rural communities such as Walvanda.
"While many tourism initiatives are trying to create a market for the locals in a particular region, it is the outsiders who end up taking control, (while) the locals are left to do the menial jobs," says Richa Williams of Grassroutes.
Grassroutes emphasises community involvement, by building a rapport with the gram panchayatsthat govern rural villages.
A village tourism committee is formed to ensure maximum involvement from all households, and locals are trained in hospitality skills, thereby giving them a source of livelihood without having to renounce their indigenous ways.
It currently works with close to 600 rural families across four states in India. These households have seen their incomes go up, while fewer have chosen to migrate to urban areas for work.
"All our projects have been self sustainable within two years of functioning."

Richa Williams, Grassroutes
And there is a sense of pride felt by the community too, in seeing their traditions in the spotlight.
Shares Waman: "A few years ago, a journalist had visited our village with his wife, who unfortunately happened to get stung by a bee. She was both scared and in pain. It was a paste of two medicinal leaves which when applied to the inflamed area provided her with immediate relief. He (the husband) went on to write about it for the newspaper he was working with!" Leaving Walvanda and watching the emerald green fields disappear in the rear-view mirror, one may be struck by the intriguing lesson on sustainability the village offers.
Their farming processes may appear "inefficient" to modern eyes, but they produce enough for their needs, let nothing go to waste, and do minimal harm to the land.
They own little by way of material possessions, but they are the masters of the land they live on.
Time takes on a different quality in Walvanda, and it is tempting to write it off as a "throwback" and a relic of a bygone era.
But even as the Warli adapt modernity into their lives, perhaps they still have a few lessons in store for modern world, after all.